Dawn of the Dead Mall
Thoughts on the slow undeath of the retail colossus.
Note: This piece was originally written in 2019 and posted elsewhere. It has been reposted here for archival purposes.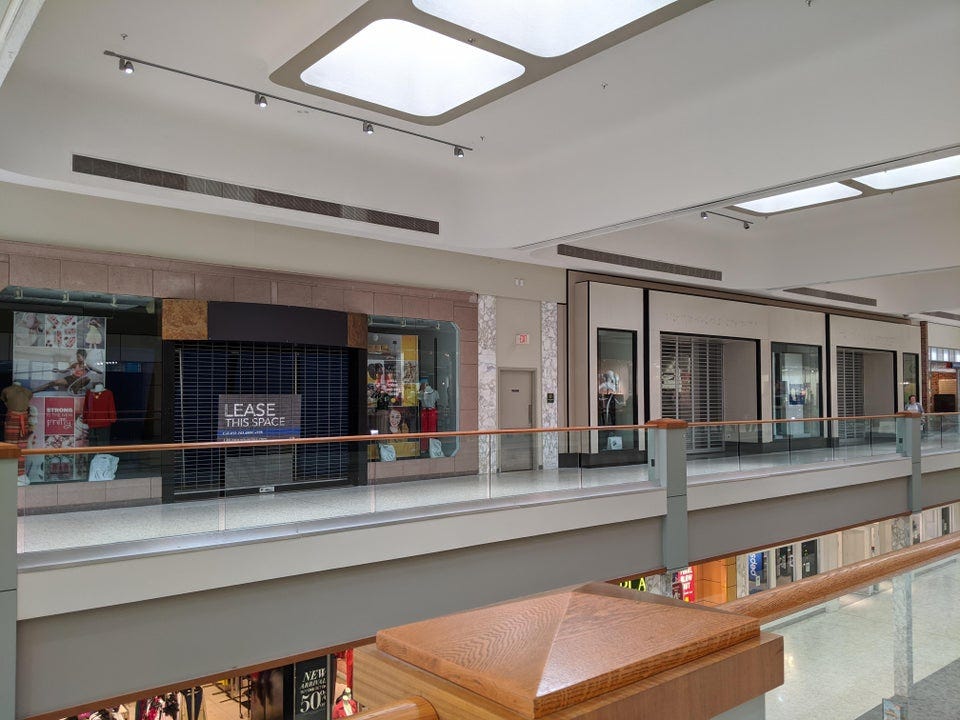 (The Monroeville Mall in 2019. Image courtesy of /u/CraboTheBusmaster from r/DeadMalls.)
Lately, I've been watching those "Dead Mall" videos on YouTube, from accounts like Dan Bell and Retail Archaeology. I find them strangely compelling.

Growing up in a small and remote town, I rarely ever got to go to the mall. In fact, I seldom stepped foot inside a building taller than three floors or occupying more than a few thousand square feet.

We had a "mall", but it was in practice a short hallway connecting a Zellers to a Safeway. Most of that space was abandoned over a decade ago, before eventually being removed entirely to create more loading space for the Safeway. An early causality, on the very periphery of the rot that is slowly killing the empire of American Retail Capitalism that defined the latter 20th century.

Our rare sojourns where always exhilarating experiences, even to small remote malls. It wasn't even the shopping opportunities, it was just the scope and density. Such massive man-made spaces, so dense with people, and things. For my younger self, the everyday structures of modern urban living where as marvelous as Antique Rome might have been to a isolated Gallic villager. The fascination has never entirely left me. To this day I'll sometimes lose hours browsing the world's great cities, New York, LA, London, Beijing, Tokyo, from the God's Eye view of Google Maps. Marveling at the density, the intricacy, the complexity and inenuity of the lives of millions of people compressed into such small places.

Where I live, and spent most of my life, the population density is tiny. Our riding for federal parliament (like a congressional district), is larger than the entire UK, and is inhabited by fewer than 100,000 people.

The mall is the epitome of modern urban and ex-urban development, in all it's glory and horror and vapidity, beauty and banality, opulent facade and austere structure. And the mall is dying.

The shopping mall can date it's origins to the 19th century, with the emergence of Arcade's and Gallerias. Typical of Europe in the gilded age, these where complex, ornate spaces, home to high-end shops and services for the aristocracy and the emergent bourgeoisie. A place where the rich could escape muddy streets, inclement weather, coal smoke and the ever-growing masses of urban poor.

With the growth of the industrial middle class, mass production and consumer retail came the earliest proto-malls, replicating in simplified modern form these European gallerias in simplified and reduced form. As consumer retail and capitalist excess expanded in the post ww2 era, so to did these early malls, into the behemoth complexes we know today, escaping the urban areas with the white middle-class and dotting the suburbs, great slabs of glass, concrete and stucco centered in vast hot fields of painted asphalt.

In 1969 the Monroeville Mall, of Monroeville Penssylvania, first opened it's doors. It was conceived as the largest mall in America, though was rapidly eclipsed in the rapidly expanding field. It is in many ways the epitome of the modern Mall, a million-square-foot enclosed space containing within it every amenity, from every form of retail shopping, to restaurants, bars, banks, even a clock tower and an ice skating rink, all safely enclosed by poured concrete, steel, glass, brass and marble tile.

The mall was the epitome of 20th century American culture, specifically as defined by it's dominant suburban white middle class. Just drive from your safe isolated automated little castle, in your safe isolated little metal box, to a safe isolated place where you can get everything you need -- in one air-conditioned muzak-accompanied place, no blacks, no poors, no crime or urban decay -- then drive home again. A town center without a town, a city without a city, everything fast, cheap and convenient, pre-packaged, pre-cooked, no-assembly required, no muss, no fuss, no returns after 30-days.

The Monroeville Mall is still there today. You can see it on google maps, it's even bigger now, as is it's vast parking lot. It's by no means a dead mall, but you can see the signs - big anchor stores closing and downsizing. But you've seen this mall before. So much the quintessential "live" mall, it to played the role of the first dead mall, long before the term was coined: In George A. Romero's 1978 genre-defining film, Dawn of the Dead.

This isn't an essay about that film, but most are familiar with the strokes, and if not, it's just a Google away. Four survivors hole up in a shopping mall in a dying world, teeming with mindless zombies, shuffling aimlessly through a consumer paradise rendered inert and meaningless by the death of the world that birthed it. Capitalism's mindless consumers reduced to their basest form, etc...

The middle part of the film is rife with the imagery one associates with a good Dead Mall. Easy listening muzak echoing through vast empty spaces, rendered melancholic and spooky by abandonment. There's always something creepy about an abandoned place isn't there? Something evocative? Like you can feel the absence of the teeming masses of people meant to inhabit the space.

But in Romero's film, it is the people who are undead, while the mall remains gleaming, well lit, and stocked fully with all it's stores and wares. The reality is an ironic mirror: The people have all left, and it is the mall that has become the zombie, decayed and rotting, shambling on mindlessly, conveyed only by the inertia of strange and arcane forces of a dying world.

When the Roman Empire fell, no one saw it coming, and most of the citizens living in the imperial core hardly noticed when it did. The decline was so gradual, taking place over generations. The ideology, the titles, the superficial elements remained in place for decades after most commonly argued dates for the Empire's fall. The decline, the collapse, started in the periphery, and only slowly worked it's way inward towards the core.

There is a delay, an echo, between an event's occurrence, and our recognition. The crash after the lightning strike, the boom after a supersonic jet, the body of a headless chicken lurching about, refusing to acknowledge it's own death. The time and space between Wile E. Coyote running of the cliff, and when he looks down, holds up a little sign that says "Yelp!", and falls.

Almost the entire lifespan of the shopping mall has been spent in that interstice, it's growth, and the growth of consumer capitalism, built in the fading echo of the dying class they where built to serve, propelled onwards by the cheap and plentiful credit and expectations of limitless growth offered by neoliberal capitalism as an alternative to falling wages and growing poverty. For the mall, as all of this era of capitalism, it's rise was it's decline, it's apex it's doom, the top of the hill the edge of the cliff.

There's a reason every Dead Mall video is scored with vaporwave. The remixing of dated of the old radio hits and easily listening muzak that is synonymous with the retail and mall experience, saturated in reverb, slowed down, reverberated and distorted, given an eerie and dreamlike haze. The nostalgia for never-extant pasts and lost futures that is called "hauntology." This is because the dead mall is the concrete material manifestation of the hauntological, specter of worlds dead, dying, and never-born.

For the so-called "millennials", it evokes the melancholy nostalgia of watching our child-hoods recede definitely beyond the rear horizon of time. However you felt about malls, or the stores within them (which are often identical to the stand-alone counterparts), they are places where we spent a lot of our time and our lives, happy or sad or bored. Browsing excitedly for toys, hiding amongst the clothing racks in a department store, wandering off and experiencing the first formative anxieties of isolation from one's caregivers. It is not unlike seeing one's childhood home fall into ruin, but it is a home, rendered by homogeneous corporate mass production, familiar to almost all of us.

As an adult, I bear no loyalty or affection for these soulless corporations, for brands and stores. Yet still, there is some part of me that longs and aches when I see a dying or abandoned toys 'r us on video. Good or bad (hint: bad), it was still the world of our youth, of all that simple naive joy and wonder, and it is a world that is dying. Good riddance, but also, goodbye.

But also, good riddance. In this concrete manifestation of the hauntological, is also a certain joy, or at least, enjoyment. Mark Fisher once quoted Slavoj Zizek quoting Frederic Jameson quoting some unknown original author: "It is easier to imagine the end of the world than the end of Capitalism."

But in a world dominated and defined by capitalist hegemony, is there any longer a meaningful distinction between the two?

The apocalyptic fantasy is the escape the stifling reality of our capitalist order, the bonds of wage and finance and debt, the impenetrable padded walls of bureaucracy, the surveillance and police state, the complex web of concrete and abstract forces that constrain our action, that keep us paralyzed with worry about what we can and cannot do. It is the fantasy of escaping this reality that animates so much popular fiction, from Fallout to Fight Club, in forms both emancipatory, reactionary and fascistic. We all want out.

Abandoned Places offer a glimpse of this fantasy in our material reality. For over a decade now, UrbEX (Urban Exploration) has proven a popular activity for the adventurous, underground and sub-cultural. It is the delving into old factories, abandoned military bases, and other places bereft of purpose or profit and left to decay. Modern Ancient Ruins for adventurous people to play Indiana Jones (or Nathan Drake or Lara Croft). It offers that hauntalogical stimulation, the nostalgic and eerie, the fascination with the past, and the excitement of transgression. But it also offers the promise of freedom. Of escape, however small or temporary, from the realm of the hyper-ordinary, constrained and controlled, regulated and observed and ceaselessly demanding, into a place who's very decay and abandonment represent a retreat or collapse of the forces of repression and control. A hole in the fence, a metaphysical sea of dirac, where the Big Other is not watching us or making demands. Where one can be and do as they wish, even if that amounts to nothing more than wandering through the "No Entrance Permitted" door or throwing a party.

In the mid-section of Romero's Dawn, the protagonists clear the Monroeville Mall of it's undead inhabitants, and claim it for themselves. What follows is a montage of child-like glee as they realize for the first time the radical freedom to enjoy everything the mall offers, without restriction or restraint, with no one watching. Of course, things go to hell in the end, but for a fleeting moment, there is true joy and freedom.

The Dead Mall offers us this vision. This thrill of the abandoned place. It's emptiness and material decay evoking intuitively this sense of lapsed control, and freedom, however vicarious. More then that, it offers a promise: Each mall is a place once densely populated, rigidly surveyed, brightly lit and well patrolled. The apex of a sterile consumer panopticon. No climbing the walls, no playing in the fountain, no pissing in the potted plants (fake or real). If these great edifices can fall into disrepair, can slip into the Sea of Dirac, what else can?

Much of my post-adolescent life, I felt this suffocating weight, though I could not put name to it. The sense that everything had already happened, that there was nothing new, no escape, no life beyond wage labour and anhedonic consumption, that the world as it is was titanic and immoveable. Capitalist Realism, the End of History. You know it, even if not by name.

More and more malls are becoming "dead malls". Their fountains turned off, their plants dying, floors and walls cracked, stained and unmaintained, store-fronts left as dark empty caverns. Countless major retail chains have scaled back or gone bankrupt. As of last year, more than 300 malls in America alone are facing closure. Even the most successful and resilient must surely be seeing their balance sheets tighten as retail sales collapse and costs mount. Credit Suisse predicts 20-25% of malls will be closed in 5 years. How many of the remainder will only persist in the zombified, dead mall state? Shuffling along, desiccated, because some distant vast holding firm has found no use for it, because it's cheaper to keep it shambling along than to close or demolish it.

The Mall was, like the whole of post-war American capitalism, born in the death of the world that conceived and sustained it. The 2008 financial crisis was only the most recent and pronounced rupture, the first heaving cough of blood of a sick and dying system. The dead mall just the most visible and emblematic symptom of this terminal ailment.

Climate change is forcing either self destruction, or a radical shift in how we live and consume. The shredding of wages, outsourcing and gross inequity necessary to sustain this kind of decadent construction and commodity production, has squeezed dry the consumer base that sustains that commerce. The suburbs and car culture that make malls work have become unsustainable and unaffordable. And an entire generation, their entire lives raised in the stifling shadow of a dead century, yearn for something different, something with at least the appearance of novelty and change. The zombie infection has spread to every corner of the globe. There's no more room in hell, and there's nothing left on Earth.

This is the Dead Mall: An interstice of past and future, real and imagined, potential gained and lost, our desire for freedom and our drive for death, an end and a beginning, childhood and adulthood. Temples to an old dying and bereft religion. Mausoleums for no king or potentate, but an entire ideology and way of life. And the Dead Mall video is the document of this inarticulate, complex web of feelings, ideas, the material space in which they are embodied. A concise record of the unlife and undeath of american consume capitalism, and the society and culture it built, it's beauty and it's ugliness, and the wonderful, terrible promise of it's end.