The Adsurdity
Advertising is only going to keep getting dumber and more audacious, we should stop acting surprised.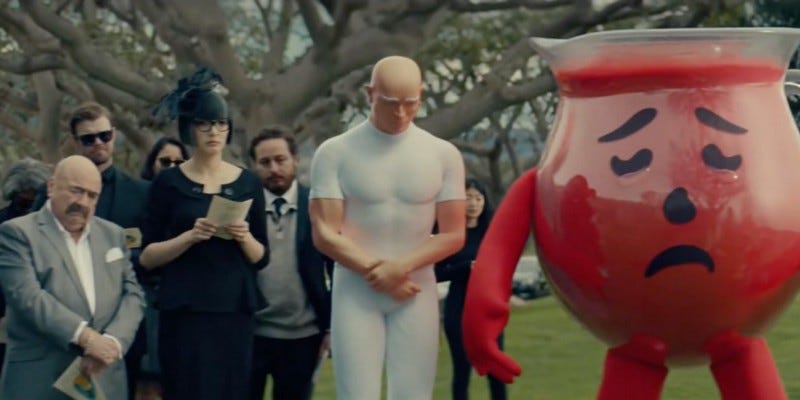 (Minor celebrities and advertising icons mourn a cartoon snack food.)
Note: This piece was originally written in Spring 2020 and published elsewhere. It is reposted here for archival purposes.
Its 1980, Jack in the Box just blew up it's titular mascot. Its 1994, Jack's back and blowing up his board of directors. Its 2019 and the Sunny D twitter account has depression. Its 2006 and GoDaddy is offering me softcore porn if I buy a URL. Its 2020 and Planters Peanuts just blew up it's mascot. Time is a flat circle.
You probably heard about it on twitter. I did. They announced the death well in advance, assuring the curious and easily amused would tune in for the dramatic end of the monocled aristocrat's century long career as a cartoon on a can. As of now the official video has over 7 million views, and Wesley Snipe's "Rest in Peace" twitter post over 10,000 likes. For about a week, people bothered to think about Mr. Peanut. I guess that qualifies as a success?
It is a bizarre ad. Mr. Peanut is an uncanny CGI character with the floaty smoothness of a parade float. He sacrifices himself to save two B celebrities, dying in a fiery explosion with his peanut-mobile. We cut to the funeral, where more B-listers mourn the deceased sentient food item alongside fellow uncanny digital monstrosities: Mr. Clean and Kool-Aid man. Kool-Aid man's tears drip onto the grave, sprouting the birth of a "cute" little baby nut, around which Mr. Peanut's current branding is predictably focused — complete with the obligatory "im baby" post. It's basically a rip-off of the endings to Guardians of the Galaxy and Pokemon the First Movie.
I expend a paragraph describing this ad campaign to convey it's absurdity. Not as a product of absurd comedy (it sucks), but as a product of the advertising industry itself. You'll note nothing I've described has anything to do with eating peanuts or why you might want to eat a peanut. Not even in the indirect subliminal way like one of those pretentious perfume ads or a hot girl in a bikini swan diving into a scrooge mcduck pool of peanuts. It exists not in service of the product, but the brand, the abstract entity who's value (measured in "awareness" and "engagement") now exceeds that of the actual commodity it represents.
Near the turn of the century, film producer and Wharton graduate Lawerence Kasanoff began production of an animated feature film called "Foodfight!", which you may have heard of through one of the myriad 'bad movies' podcasts or youtube channels. This bizarre CGI feature was, from its inception, pitched as a massive advertising vehicle — Who Framed Roger Rabbit? but for grocery store product mascots like Charlie Tuna and Chester Cheetah. Production delays led to the film limping onto video a decade late, but it's production and premise presaged the crossover Cinematic Universe and ultra intra-brand synthesis that defines our current cultural milieu: Kool-Aid man basically now Peanut Jr's father. In the aforementioned twitter post where Sunny D had depression, everyone from Pop-Tarts to Pornhub was in the replies offering condolences and trying to cash in on some viral clicks.
Everything runs together. All our superheroes, our videogame characters, our cartoons and now even the guys they put on our cereal boxes all inhabit some kind of shared meta-verse. A fever dream of a nerdy 12 year old fanfiction writer who played Smash Bros in 1999 and thought "wow what if they did this with everything?" Somewhere the finger on a monkey's paw curled. How did we get here?
There's a scene in a 2016 episode of HBO's venture tech spoof "Silicon Valley" that is seldom far from my mind. In it CEO "Action" Jack Barker (Stephen Tobolowski) tells the Zuckerberg-like nerd protagonist that the product of his start-up is not it's software, or algorithm, or anything else but its stock price. Stock is the primary means by which executives and shareholders are compensated. What is most valuable to a company is not any service it performs or commodity it produces, but simply the appearance of having value. The fetishistic tautology, the number goes up because number goes up.
Which takes us to advertising: The click is the commodity. Engagement, analytics, all the likes, faves, retweets, views and all the times your post, product or brand is mentioned (and if its mentioned alongside positive or negative seeming words). No doubt somewhere some web crawler is indexing this very article, some algorithm is sorting it and parsing the text, updating various spreadsheets for all the brands mentioned herein. For the advertiser, sales don't matter. Just the clicks.
For Planters (a division of Kraft-Heinz), its the same concern. They've probably got the market cornered on store bought snack peanuts, they've got about as many customers as they can get who are buying as much peanuts as they could ever care to. All that can expand is the value of the brand. To be able to point and say "look at all the people thinking and talking and caring about our mascot." Something, anything to justify a little bump in stock price. The last market and the last property is your conscious and unconscious mind, and its an increasingly crowded and saturated one. Why do you think Lego licensed all those Lego movies? The studios got all the money, but the Lego corporation got the clout.
Capitalism is in crisis. I know people are always saying that but its the truth. The real economy, the production and exchange of material commodities, has been effectively in decline for months if not years, and stagnant before that. All the wealth goes up and doesn't trickle back down and, eventually, that leads it to stop moving altogether. The economy of the last decade has been a fiction. A series of bubbles in real estate, the tech sector and the stock market. Even the internet advertising sector. All those clicks and views? As long ago as 2013, reliable reports indicated half or more of them are fraudulent, the products of bots and click farms. Even more, no doubt, come from infants sitting at iPads, or play to empty rooms while those too tech-illiterate to use adblock wander off to get a beer before their video starts.
Consider this: Marketers pay bot-farms a small sum to make their posts appear popular. They look successful and get paid. The guy who hired the marketers looks good and gets a promotion. The company can point to their apparent popularity and gets a boost to their stock price. No value is being created, nothing is being accomplished, but everybody wins. The emperor has no clicks. Somethings gotta give, right?
This brings us back to Mr. Peanut, dead and risen again like Christ, E.T., and Goku. Why are we talking about Mr. Peanut? Audacity. The audacity of such a plain-jane background noise company as Planters, to take a century old icon like Mr. Peanut, and do something as bizarre and embarrassing as blow a bunch of money on a superbowl ad where the Kool-Aid man cries and makes a baby with Mr. Clean. The same novel absurdity that has us watching, in genuine enjoyment or juissant annoyance, as Wendys gets sassy with the Burger King, Sunny D gets depression, and Steak-Umms talks meta self-referentially about how weird their whole gimmick is.
From time to time ads have always been willing to adopt avante-garde culture and push boundaries, but caution, respectability and "middle-america" appeal have generally kept most established brands from getting too crazy too often. Now it seems like every company out there is doing something insane, that we can't help but look at and comment on, because of how bizarre it is that That Company would Do Something Like That. But of course they would. They're desperate.
The American economy, and by extension the economy of "the developed world" in general, is more concentrated than at any point since the Gilded Age. Behind the myriad products and brands and the complex obfuscation of corporate ownership structures, only a small handful of mega-corporations control almost the entire economy. Not only do they have nowhere left to go, they've also got little to lose. Again, about as many people buy Planters peanuts as are ever gonna buy them, but they're also not terribly likely to stop either. Or if they do, they'll just switch to some other Kraft-Heinz product.
With nothing to lose, and nowhere else to go, marketers and their clients have no reason not to constantly push the boundaries in competition for the last frontiers of the human psyche. There is no culture, no movement or meme too radical or avante garde for them to appropriate. Nothing to insane for them to imagine. Uncle Ben and Aunt Jemima sex tape. Mr. Clean comes out as trans. Chic-fil-A's twitter account posts goatse and Ronald McDonald espouses the merits of Marxism-Leninism. Every day some desperate or savvy marketer is gonna push the boundary, like Steak-Umms did, and as soon as they do a thousand more will follow, forcing someone else to push it a little further.
And it works. It works because we get surprised, offended, sometimes even genuinely amused, we laugh, we make fun of it, we share it saying "you won't believe this." Some smug psuedointellectual writes a 3 page essay about how cynical it is and how it all works and how dumb we all are for falling for it. Look back over this essay and see how many brands I name-checked. This is the Adsurdity: Nothing is too weird, niche, terrible or radical for desperate marketers. Its going to keep getting weirder, and worse, until we wise up to the game and stop paying attention, even to gawk and make fun.