Thoughts on Magic, the Occult and Spiritualism
It's cultural, creative and psychic value and also it's intellectual and political pitfalls.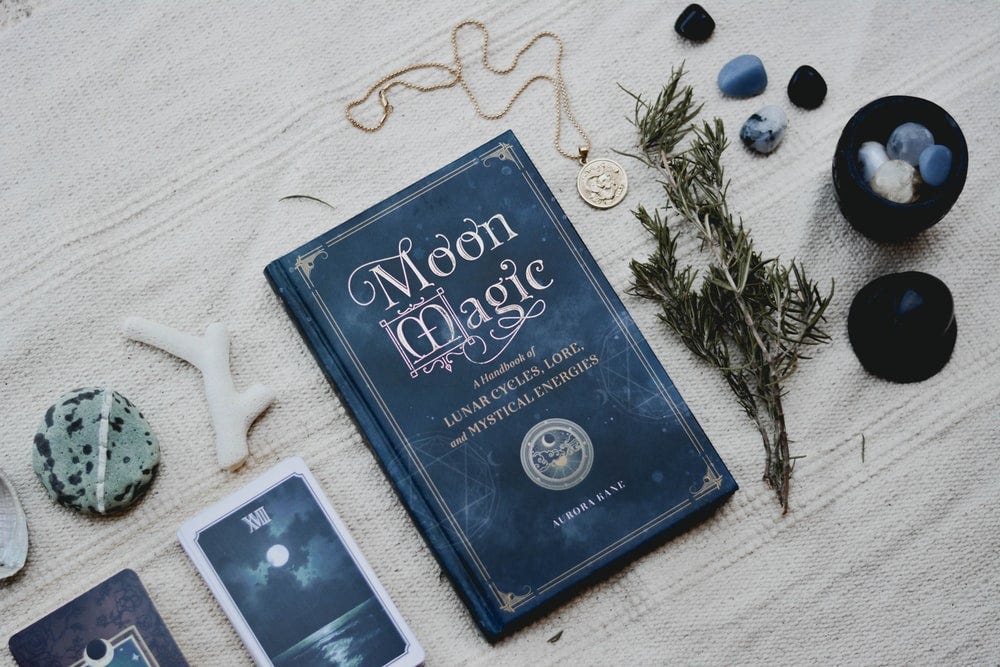 I've never been a religious person. I grew up in a household that might be best described as christian agnostic, and as a child inherited the ambient Christianity of English speaking culture until I was old enough to start forming independent thoughts on the matter, since then my worldview has been, essentially, materialist and atheist. This isn't an Epic Atheist Rant, I hope, but I just wanted to put everything that comes next into context.
Once in a while I pray. Not to any particular deity, just to whatever forces that may (even if they probably don't) exist. I started doing this essentially as an experiment, based on the descriptions of the effects of prayer by people with a more spiritual bent. After my grandfather was diagnosed with cancer, it was a way to kind of make sense of things internally. To grapple with my thoughts and feelings. In a sense, perhaps, therapy by other means. On multiple occasions it's brought me to boughts of cathartic weeping (I'm not a big cry-er). I don't believe any supernatural force is truly at work, but there is in this sense of applied amateur psychology I guess, real power in prayer.
I'm not as widely read on philosophy or magic as I'd like to be. But maybe that's not wholly necessary. Most of it trickles down through art, culture and discourse and unless you're teaching a course or writing academic literature, perhaps that isn't an entirely illegitimate way to come to grips with the material. I don't believe there is any Meaning in the universe, any plan, purpose, immanent moral or narrative structure. However, I've come to believe, that the great gift of humanity, of having conscious and creative minds, is that we can imbue the universe around us with meaning. The conscious creative psyche fills this inert void, this inchoate swirling mass of undifferentiated matter, with a metaphysical, spiritual substance. This is the basis for my I view the spiritual and the magical, gods, spirits, and so on: The act of imbuing the world with meaning.
I think there's something beautiful and powerful in these things. Acts of ritual, projections of character and dramatic narrative, personifying the impersonal world around us, enlivening it, putting ghosts into the machines of the natural world (and the ones we create, if we so choose). The world, much less the larger universe, is a big, big big place, and we are by comparison such minuscule creatures, short lived and small minded. I think it too is necessary to have something to put in place if the big incomprehensible question marks that fill those great spaces of the unknown and the unknowable, dragons to draw into the unexplored parts of the map. A coping mechanism for the vast systems and chaos that so dwarf us. So called spells, rituals, invocations, can all serve these various functions. And the vast human history of occultism, spirituality, religion and myth give us a rich body of symbols, images and ideas to inform art and creation.
This is how I square the circle, between a fascination, appreciation, the psychic and artistic uses of spirituality, religion and occultism, and a fundamentally materialist (not materialistic) worldview. Maybe it's a bullshit cop-out? I don't know. I leave that up to you to judge (and if you think I'm wrong then you're wrong, obviously.)
That said, I think this view of the magical and spiritual is in some sense necessary, as it does not afford us the room for too much delusion and escapism. This is the flip-side of such practices, and I think why so many enlightened regimes and movements have been so aggressive to dismiss or even persecute religions and "superstitious" practices, both past and present. I think there is a now long and potentially dangerous tradition of solipsistic escapism rooted in Anglo-American (and doubtless outside it) culture today. One that serves to distract and dissipate discontent and unable or unwilling to confront power and our collective social ills.
For all intents and purposes let's call this collection of practices and ideas we wish to discuss new-ageism. I think a full analysis or intellectual history is well outside the scope of my writing or expertise but I think such a history is here also unnecessary. We can observe new-age ideology in practice in popular culture and discourse every day, and the prevailing ideas that tie these seemingly disparate trends together into what a cohesive whole. It's those trends and their effects I want to discuss. So, at least for our purposes, what is new-ageism?
New-Ageism here describes a diverse body of post-modern developments in spirituality that trace origins and manifestations across the spectrum, from pagan occultism, to modified Christianity, to Hinduism and Buddhism, but can be understood primarily as home-grown product of American Capitalism. It's prevailing characteristics not in it's claimed origins or symbolic manifestation, but in it's fundamental traits: Solipsism, hyper-individualism, and idealistic wishful thinking. Whether it's Jesus, Buddha or some nebulous 'Cosmos', there is a Big Other, who is tending to the order of the universe, and cares about you specifically, and will reward you personally and materially for rightness of thought and action. Rightness here to be understood in terms of wanting things badly, and trying really hard to get them. Wish hard, pray hard, try hard, (and give money to this or that guru, pastor or self-help author) and think positive! You will reap the rewards. Fail to reap the rewards, and you have simply failed to dream big enough or hard enough, failed to recognize your blessings, or simply must keep doing what you're doing and wait longer.
Think about every bit of new-age or self help advice you've ever gotten. You are the master of your own fate. Build a vision board. Follow your dreams and the Universe will respond. Fake it 'til you make it. Manifest what you want just by imagining it really vividly. Mindfulness. Gratitude. Love is all you need. For those that believe, it's quite seductive and comforting. Everything you want is right there at your fingertips, just for being a good person and wanting it hard enough. Everything you want is both waiting for you, but you don't need it, but also you can have it, you are master of the universe and Everything Will Be Fine. Everything is As It Should Be and Will Work Out in The End. Just Live, Laugh and Love! I suppose at this point my contempt is visible from orbit.
It should come as no surprise that new-age thought emerged out of the hippie movement of the 1960s, the cultural revolution, the social upheaval, and the onset of neoliberal austerity which followed. As labour movements, social welfare, economic regulation, political solidarity and the organized left where all systematically dismantled, and as what seemed like ancient truths of social relations where dissolved by movements of racial, gender and sexual emancipation (mostly on their own terms, for the better), as God's corpse increasingly started to rot and stink up the place, something needed to fill the spiritual and narrative void. The collective soul of the masses (or more accurately, the broad middle class) needed a new opiate, a new story, something to make sense of the new world of the closing decades of the 20th century. It's a means to reconcile both rulers and the ruled to the new order.
What does new-ageism, in any guise, tell the ruler? Everything they want to hear. Their wealth and power is earned not only by their cleverness and effort, but by the rightness and positivity of their thought, the power of their will, and the accommodation of a benevolent universe (or god, god's, karma or 'The Market'). Their place is deserved as it is divinely ordained, as is the place of everyone below them. After all, if they where positive thinking, mindful, moral and worthy, wouldn't they rule instead of being ruled? Not only does new-age thought justify power and inequity by these means, but also feigns an anti-materialist asceticism. All those trappings of wealth and power don't really matter. The poor man, the rich man, all are just souls, different but equal experiences. The poor want to be poor, or else they'd be rich, and vice verse. After all heavy is the head the wears the crown, corrupting is wealth and power, it's good so many are impoverished, it keeps them pure and noble. It All Works Out. See you haven't done anything wrong! You can be a good person and work children to death in a clothing factory!
What does new-ageism tell the ruled? Rulership is right around the corner. The boat, the big house, the dream job, just put it on your vision board, Think Positive and put in that extra effort! Work hard and dream big! It'll all work out! And if it doesn't, just work harder and dream bigger, but also be mindful, grateful for what you have, and want nothing! Nothing is your fault except everything! Buy my book! Donate to my megachurch! Attend this seminar! Cast this spell, sleep under this pyramid, drink this new kind of juice. All your problems can be solved just by Making the Right Decision. Everybody deserves what they get. After all, it's better to believe that positive change is inside you, or right around the corner, than to admit you are powerless and helpless in the face of a cruel and indifferent universe, isn't it?
Forget politics, and systems, unions, parties, just Make It Happen. Don't like Donald Trump? Just put Hillary Clinton on your vision board. Cast a spell to hex him. Grandpa god cancer? Time for a prayer circle. At least it won't put you in debt like all that chemo will. Nothing is free except the infinite benevolence of a loving and caring cosmos! Don't see that benevolence, well you're just not looking hard enough for it or trying hard enough to earn it! Look, the world is burning, everything is going to hell in a hand-basket, mother gaia is crying out to you to burn a candle and fix it! None of this makes sense but hey... at lease you don't feel so helpless and doomed right?
This is the pernicious heart of new-age spirituality, whatever it's nominal form (oriental, christian, pagan, psuedoscientific). It's the syncretic religion of the Neoliberal Epoch, the smiling beatific peace and love preaching face of a political system of dog-eat-dog brutality. The justification that allowed a generation of free love smash the system flower power hippies to pull dockers up over their sandals and take their forefather's places at the top of the human-mulch machine of capitalism, and pacify everyone else into accepting their place caught and goopified between the gears. It's perverted whatever value exists in our metaphysical traditions to pacify and isolate us, by offering us the consolation of a delusion of individual autonomy and moral order. A little happy-face paper-plate mask for the slow rolling smoke belching voracious maw chewing it's way through our future, our dreams and everything and everyone we hold dear.
We can't hold people personally accountable for adopting these beliefs, like most others, they're just seeking sense and comfort in a senseless and comfortless world. But in understanding it's appeal, and the necessity of creative and spiritual nourishment, perhaps we can begin to retake control of this gift for magic and meaning, not in-spite of a rational or materialist understanding of our world, but in support of one. As a means to comfort, inspire, and rally people to another better cause, rather than the folly of meeting a hopeful (if pernicious) narrative with "everything is fucked and bad and you're stupid for thinking otherwise, abandon all hope and join my DSA caucus." People need a little bit of magic in their lives, and there's ways to do it that are neither irrational or pacifying, if we're willing to give it a little thought and imagination. To imbue our material world with new, and better, meaning.